Sun Bakery: Explained
I'm a comic book artist, well, "creator" is the preferred term. I don't strictly draw (I write, draw, color, design, everything), and I tend to create my own stories as opposed to working on established IP, specifically (thought I enjoy doing that as well).
I'm known for a few comics / graphic novels out there, most notably a 2-part book series called Sharknife published by Oni Press. Since doing Sharknife, I did a one-shot comic about kickball called PENG, a zine series called Layered Jacket about a guy who can summon anything out of his magic jacket, & an online comic (optioned to become a cartoon) called Seedless, about sentient grape warriors.
I'm a crazy idea guy, I hope you can tell. I love conceiving concepts. Since I'm not the type to just cram all my ideas into one comic story (as a logical person might); I think it's a bit of a weakness but also my biggest strength.
After spending literal chunks of years drawing one idea (Sharknife), I've now transitioned into being a rapid-fire idea minigun machine man. This is the idea behind Sun Bakery, a new comic book anthology magazine I'm very excited about featuring several comic book stories all created & drawn by one person: MEEEEEEEEE
Sun Bakery is an ongoing comics anthology magazine. Each issue features anywhere from 2-4 stories– some of them are ongoing stories, some just one-shots per issue. Each "Arc" of Sun Bakery has a central story– the first four issues center around a story called DREAM SKILLS:
"In a city where guns have been rendered obsolete; swords have become the ultimate weapon / status symbol. Join Xasha in Geo City as she introduces her wide-eyed friend Puff to a world of spiritual swordplay."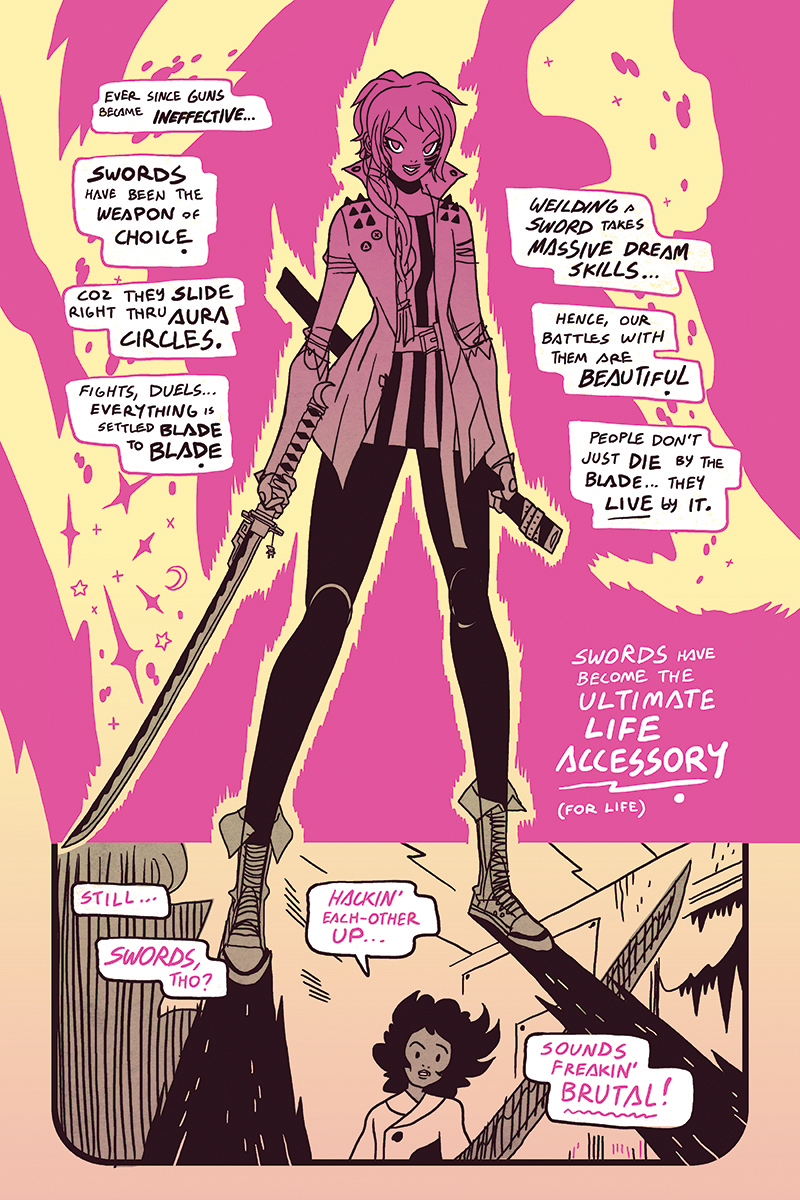 Dream Skills is basically my comic book answer to the question: "What if people still used swords instead of guns?". It's a romanticized idea of conflict / consent that I examine in my own way, featuring cute gals, swords, family, coffee & wi-fi.
Next up, we have what I'm kind of known for already– Video Game-inspired stuff!
"Space Explorer Arem Lightstorm is a lover of foreign planets, exotic creatures, celestial bodies & grand vistas– all of which she strives to capture and upload to her Nextigram account. Witness as she hurls herself into danger, all to get that perfect snap."
AREM is a space explorer / documentarian inspired by a famous Nintendo franchise from the 80′s– with a modern social media twist. Basically I just really wanted to draw an armored-person space comic. Arem is an open, explorative experience about feeling & adventure.
The other bigger title in Sun Bakery #1 is BAT RIDER. Unlike the other two stories which are saturated with vibrant colors, BAT RIDER is portrayed in glorious black & white.
"Haunted by his ex-girlfriend and taunted by his supernatural talking skateboard, Bat Rider is just trying to live life one day at a time in Poroki, a city that seems content to sit and wollow in ennui."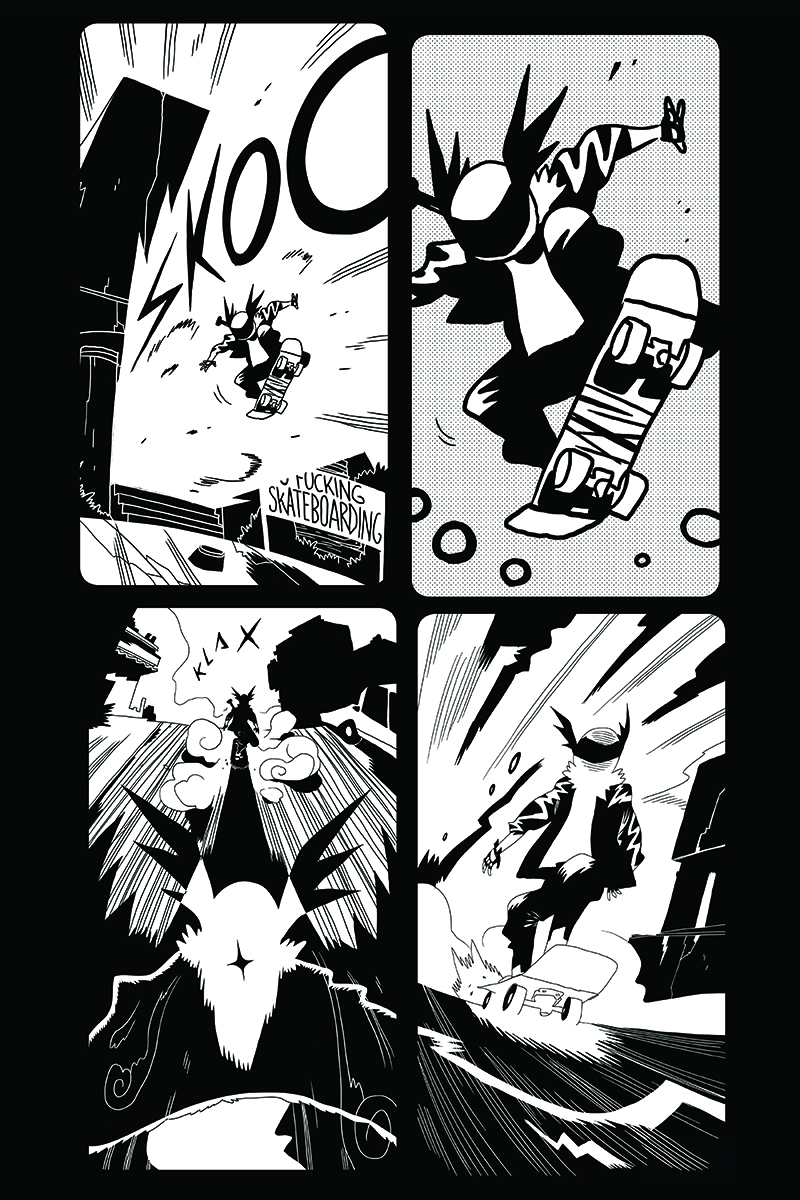 Along with the "big" titles in Sun Bakery– I tend to sprinkle the issues with extra content, including micro-comics, artwork, writings and guest appearances by other Reyyy-niverse characters like Seedless, Bloodshed & much more.
Basically, I'm hoping you're seeing the limitless potential that Sun Bakery represents. It's an anthology yes, but it's also me building a universe! I hope you all come hang in it.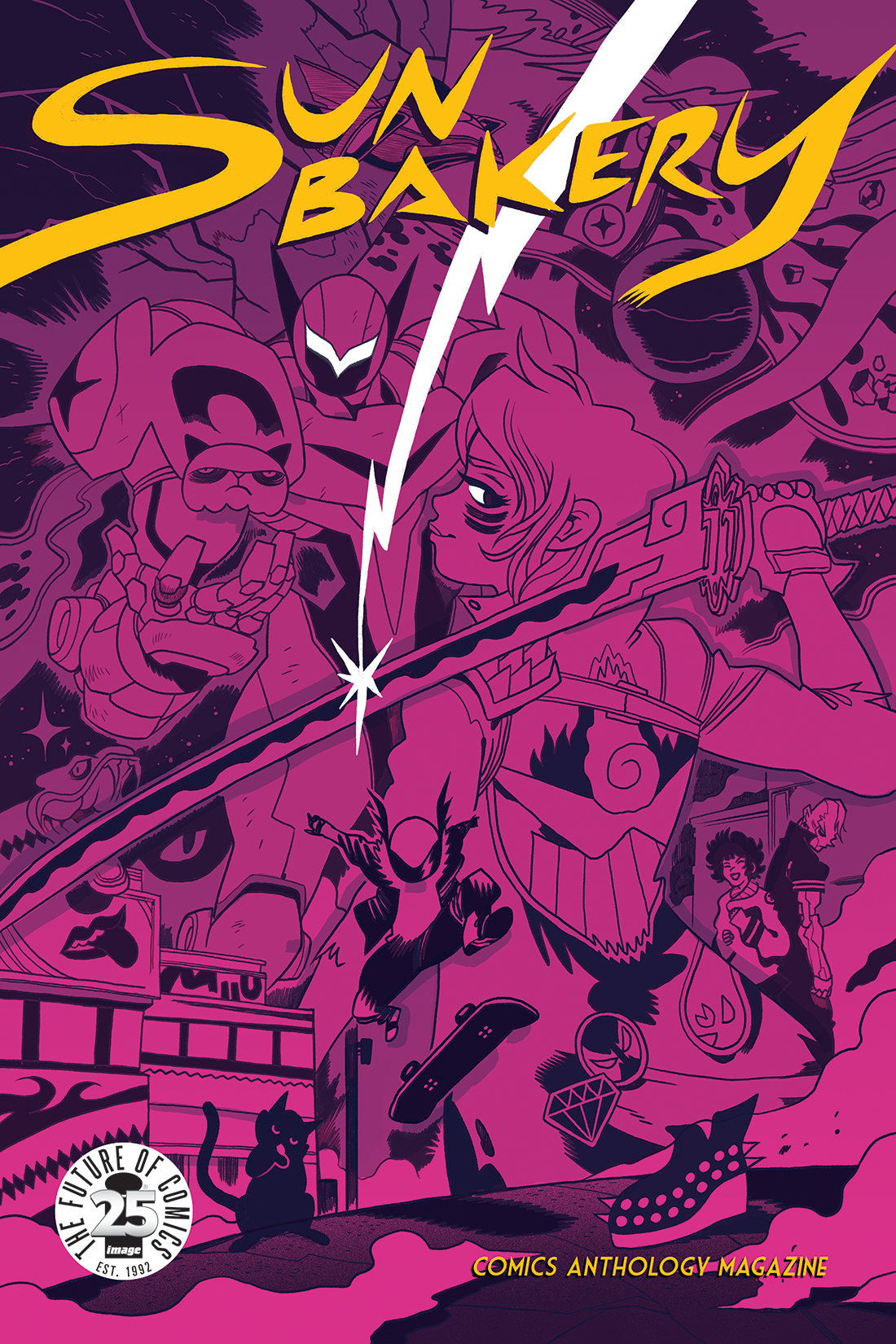 Sun Bakery had an intial debut in 2016, published by Press Gang. Thanks to Press Gang for putting it out, and anyone who already picked it up. If you're new to the Baker-verse, prepare to get your hands on all the issues, published by Image Comics, starting Feb 2017!
Order your copies of Sun Bakery at your local comic shop / book store with the item code DEC160666 !!! ty <3